Red Square
This is where the mother of all military parades was held every May Day.

The name Red Square actually antedates the Soviet era. In Russian it is Krasnaya Ploshchad, which in the 17th century meant "beautiful square." Over time, the meaning of the word "Krasnaya" evolved to mean "red."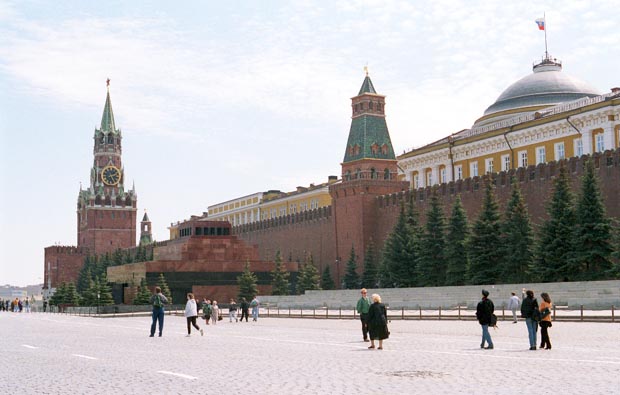 Looking south, the Spassky Tower (with clock); left of center, Lenin's Tomb.
Looking east on the left is the GUM Department Store; Center, the Rossiya Hotel, the modern structure; Right, St. Basil's. If you had been part of the May Day parade, this is the view you would have had as you neared the midway point of the square.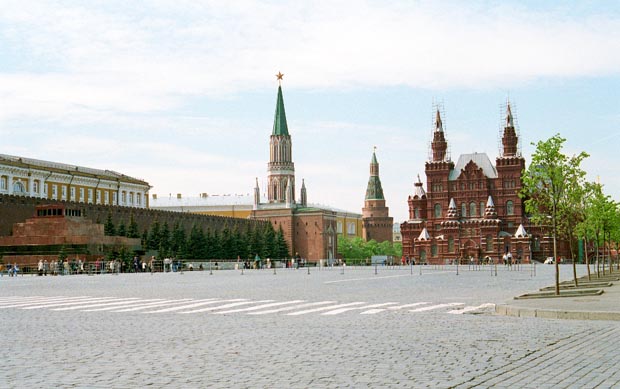 Looking west. Left, Lenin's Tomb. Center, with star, Nikolskaya Tower. To the right is the Istoricheskiy Muzey (Historical Museum), the red brick building with twin towers. It meant to exhibit, through 4 million items, the history of the peoples of the USSR. Kind of a Soviet Smithsonian. The Istoricheskiy was designed in 1878 by Vladimir Sherwood (there's a solid sounding Russian name for you.) In Soviet days, May Day marchers entered to the left and to the right of this building. The Iberian Gate (see below) is partly hidden by the trees on the right.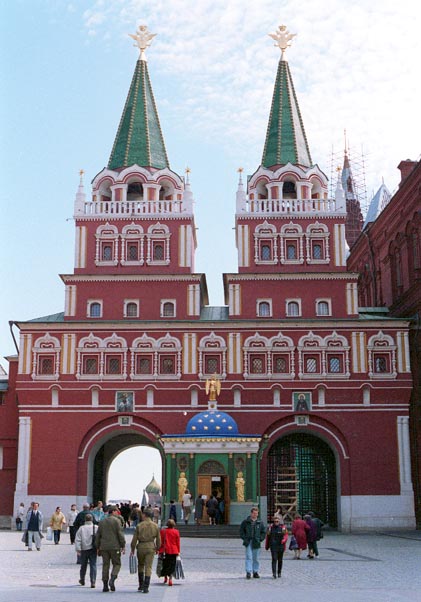 This is the Iberian Gate, one of the two entrances on the north end of Red Square. It's in such good shape that it looks new; in fact it is new, having just been rebuilt. In Soviet days it functioned as an effective tank trap to impede the May Day march. The sight of big missiles trundling through the portals must have made for some potent symbolism. It was demolished during the Stalin era.